Two Speeds Are Twice As Good
Two speed air conditioning systems operate at full capacity in extreme temperatures and at a lower capacity whenever possible. In the San Marcos, Buda, and New Braunfels area; two speed Illustration of a two-speed air conditioning systemsystems may operate in low speed as much as 80% of the time. Low speed operation uses less electricity even when the longer run time is factored in. The longer operating time helps lower indoor humidity levels resulting in a greater degree of comfort.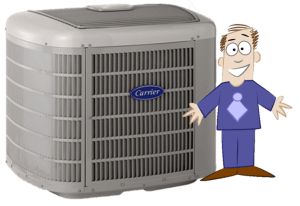 Two speed air conditioning and heat pump systems operate with a thermostat that automatically changes compressor speed and system capacity to maintain the thermostat set point. Indoor fan speeds also modulate resulting in quieter operation.
Central Texas conditions demand air conditioning systems with enough cooling capacity to keep homes comfortable during the most extreme conditions. Any air conditioning system with adequate system capacity for extreme 100 degree plus days is oversized at least 80% of the time. The cooling capacity requirement of any home vary widely between seasons and even between sun scorched Texas summer days and star lit Texas nights.
Most two speed air conditioning and heat pump systems also incorporate energy efficient DC drive ECM blower motors designed with features to improve efficiency and system performance.
You can learn more about the advantages of two speed air conditioning systems from an AirOne Heating and Air Conditioning professional.