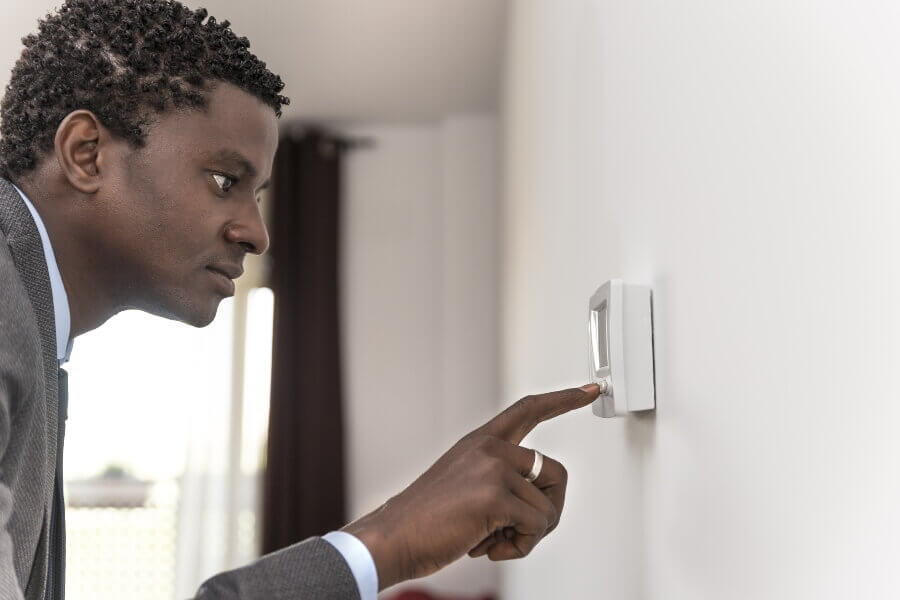 For many homeowners, keeping your home at a comfortable temperature and also keeping your electric bill low can feel like opposing goals. With certain thermostats, you can have both.
It's important to know your options when it comes to thermostats because they can make a huge difference in how much energy your HVAC unit consumes in order to keep your home comfortable.
THere we're going to take a look at programmable and smart thermostats. This term has sometimes been used interchangeably, however these two thermostat types have some noticeable differences.
What Are Programmable Thermostats?
When programmable thermostats first became available they were a game changer for saving energy and also keeping your home cool. These thermostats can be programmed to cool your home on specific schedules.
With proper programming, homeowners can see savings up to 20% on their bills just by utilizing a programmable thermostat. Here are some of the top pros and cons of this type of thermostat:
Pros Of Programmable Thermostats
Programmable thermostats offer a variety of programming options so that you can base it around your schedule. These options include:
7-day models, which allow different programming for every day of the week.
5+2-day models, which allow different programming for week days and the weekend.
5+1+1-day models, which allow different programming for week days and for a varied schedule on the weekend.
These are great options for anyone with a regular schedule. Determining your schedule and setting your thermostat to match it can save you a lot in energy bills.
Cons Of Programmable Thermostats
While programmable thermostats are a great option for saving energy, the downside most often reported is that hand programming these thermostats can be bothersome.
For example, if your schedule changes often, you will need to continue reprogramming your thermostat to match the changes. If you don't take the time to determine your schedule and make the changes, then your energy savings could be lowered dramatically.
What Are Smart Thermostats?
Smart thermostats take programming your home comfort to the next level. These feature "smart learning" technology, which requires less input from the user in order to start saving energy.
These thermostats consist of three separate components:
One part plugs into the HVAC system and is used to communicate with the second part.
The second part is the actual thermostat.
The third part is an app that can be used on a smartphone or computer. The app lets you control the temperature in your home from any location with an internet connection.
All of these parts come together to create a thermostat you can control from anywhere, giving you much greater control over the temperature in your home.
Pros Of Smart Thermostats
Smart thermostats make saving energy with temperature control much easier, especially for homeowners who don't have time to reprogram a thermostat every time their schedule changes. High-end smart thermostats use smart learning to anticipate your schedule based on the changes you make over time.
These thermostats can also be integrated with home automation services like Amazon's Alexa or others, letting you potentially control your thermostat by voice command, depending on your set up.
Cons Of Smart Thermostats
To fully utilize a smart thermostat, homeowners will need to have access to a device that the app will work on, either a smartphone, computer, or other smart device. Not everyone has these available or feels comfortable using them for temperature control.
Which One Should I Use?
The best type of thermostat for your home depends on you! If you want to program your thermostat based on a reliable schedule and don't mind reprogramming when necessary, a programmable thermostat may be just fine.
If you'd rather have more control over the temperature in your home and want something that you can use with a home automation system, a smart thermostat is for you. Additionally, if you're away from home often and want to be able to control the temperature from outside your house, smart thermostats make this an option.
Many homeowners see more reliable savings using smart thermostats since they do not require programming as often, however both systems can save up to 20% of energy costs if used correctly.
Not sure what the best option is for your home? Call one of our HVAC experts for advice! AirOne Heating and Air Conditioning has been serving San Marcos and the surrounding area for years, and have experienced the evolution of thermostats and their effects first hand. We're always happy to help find the best option to keep your home cool.