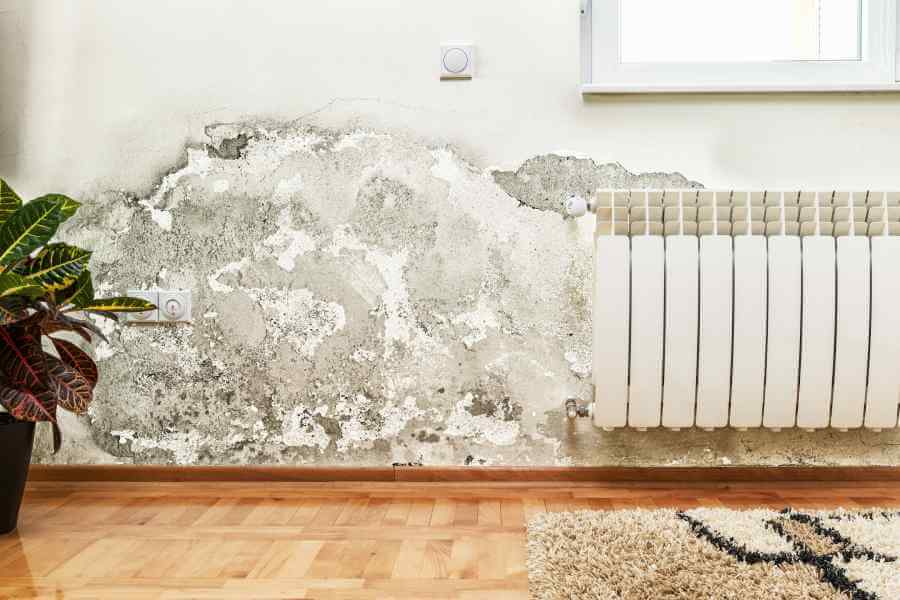 Mold and mildew infestations are a common issue that many homeowners face, especially in places that experience high humidity levels like Central Texas often can. A mold infestation can decrease your property value, cause structural damage to your home, and cause health problems for your family. One of the things you can do to prevent mold infestations from occurring is to focus on the three things it needs to survive: a food source, moisture, and an absence of light. Below, we take a look at some things you can do to prevent mold growth in your home.
Use A Dehumidifier
As mentioned before, mold needs water in order to live. One of the ways mold is able to consume water is from the air via humidity. This is why they tend to grow in places like the attic and basement—these two sections of the home usually aren't serviced by the home's HVAC system. As a result, they tend to have a higher humidity level than other areas of the home such as the living room. One of the ways you can combat high humidity levels in areas that aren't serviced by your home's HVAC is to get a dehumidifier. The device essentially intakes humid air, dispersing 'dry air' in its place.
Proper Ventilation
One of the best things you can do to prevent mold growth is to ensure that your home receives an adequate amount of ventilation. Proper ventilation can help to ensure that condensation from humid air doesn't get trapped in places such as cracks and crevices where mold can grow. Excellent air flow can help to dry wet places in your home as well. One of the things you can do to increase air flow is to get your HVAC system cleaned by a professional and ensure that you stay on top of a regular maintenance schedule for the system.
Mold Resistant Products
Many homeowners aren't aware of the fact that you can purchase products that help to prevent mold growth. In actuality, you can get everything from caulk to carpets, sofas and beds that have mold resistant properties. If you're in the midst of renovating your home, consider using mold resistant insulation, wood, drywall and other building materials that discourage mold growth.
Pay Attention To Outdoor Moisture
It's important to note that outdoor moisture can encourage mold growth in your home. For instance, liquid building up in your gutters, foundation and roof can trigger mold growth in your home.To prevent this, you need to think about ways in which you can direct outdoor moisture away from the exterior portions of your home. Make sure your gutters are clean and working correctly, and make sure to have roof leaks fixed as soon as you notice them.
Keep Your Home Dry
Keeping your HVAC system in top shape helps to keep the air in your home dry. However, you need to ensure that you actively get rid of moisture when you spot it. For instance, refrigerators are known to generate moisture, similarly to how windows attract water build-up. To mitigate this, pay close attention to your water tanks, crawl spaces, refrigerators, washing machines and household plants when it comes to keeping your home dry.
Prevent & Fight Contaminant Buildups
Mold and bacteria can grow on the cooling coil of your air conditioner. Over time, these buildups can potentially release harmful pollutants, including mold and spores, into the air. Additionally, these buildups can lead to unpleasant odors throughout your home and put additional strain on your system. A small buildup of contaminants (as little as 0.002 inches thick) can reduce airflow by up to 9%.
Conventional methods for cleaning your indoor cooling coil involve chemical or steam cleaning methods, which can often be time consuming and costly. A better approach is to utilize UV technology, which helps keep the evaporator coil clear of mold and bacteria and prevents their growth. They are low-maintenance—they do not need cleaning and only require replacement once a year.
Closing Thoughts
As mentioned above, the key to preventing mold growth is to focus on the three things it needs to survive. By providing dark places with an adequate amount of lighting, controlling humidity levels and drying all instances of moisture, it can help to ensure that your home remains mold free.
AirOne Heating and Air Conditioning is proud to offer air quality tests that can identify any potential problems with the air quality in your home. To schedule a test or to learn more about how to prevent mold with UV light, contact us today!