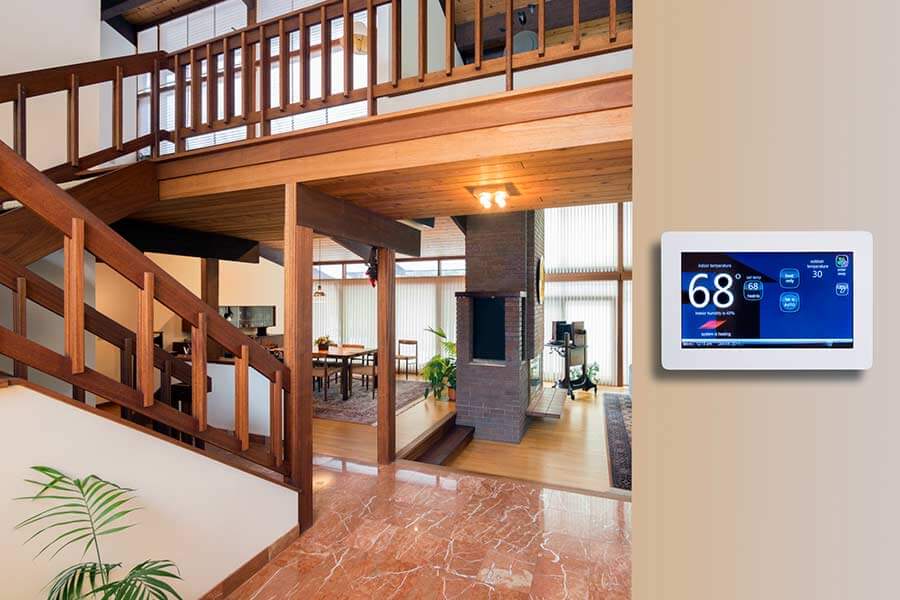 If you're planning on selling your home within the next few years, you've probably looked into making various upgrades to improve your home's overall value so you can get the most money possible during the transaction.
While many people choose to renovate bathrooms and kitchens, these may not be the best renovations when it comes to getting the most bang for your buck. It's important to know which upgrades will add the most value to your home—and kitchen or bathroom upgrades may be needed. However, there's one key element of your home that may need an upgrade that is often overlooked: your HVAC system.
An Upgraded HVAC System Can Help Seal The Deal
While new marble countertops and new tile may look great, a faulty or old HVAC system might cause a potential sale to fall through.
An interested potential buyer will notice an outdated or busted HVAC system, and that could be enough for them to pass on your home. Basic heating and cooling are essential for any home (especially here in Central Texas!), and a reliable and efficient HVAC system is generally more important than newer furnishings.
While a new HVAC system may seem expensive at first glance, it can actually provide a higher ROI (return on investment) than other remodeling projects. In fact, according to the National Association of Realtors, an HVAC replacement provides a higher percent return than many common remodeling projects, including kitchen upgrades, bathroom renovations, adding a new bathroom, new master suite, and closet renovations.
How To Know When To Upgrade Your HVAC System
If your current HVAC system is over 10 years old, there's a good chance it may be about time for an upgrade. Newer system upgrades may not be necessary unless you've been experiencing issues, otherwise upgrades may not be necessary. Older systems, especially systems over 15 years old, will likely be a red flag for potential buyers.
If your system is under 10 years old and has some issues, some repairs may be more cost effective than a full upgrade.
Energy Efficiency Sells
Homes that are considered energy efficient are more popular than ever. Saving on energy bills is never a bad thing, and more and more people are becoming more environmentally conscious.
Because of this, having an efficient HVAC system can be a nice edge against other homes for sale in your area. In fact, sellers can get 5%+ more for their home compared to sellers who list homes without an energy-efficient heating and cooling system.
If your current system is old or the wrong size for your home (too large or too small), upgrading your system can greatly improve efficiency and make your home more attractive to interested prospects.
Key HVAC Upgrades To Consider
Price, labor and time vary based on what elements of your HVAC system you're looking to upgrade. Below are some of the most common elements to consider upgrading before you put your home on the market.
Central Air
If your home doesn't already have central air, it may be time to consider taking the plunge if you hope to sell your home quickly for maximum value. While central air installation isn't exactly cheap, it can increase the value of your home by up to 10%, and many buyers see central heating and cooling as a standard feature in homes.
Furnace
A new furnace can help reduce future repair costs and lower your home's monthly bill while conserving energy. Fortunately, a furnace replacement doesn't usually require a lot of labor, and it can improve your home's overall value.
Air Ducts
The air ducts in your home may also need replacement if your home is older. While ductwork should last up to 25 years, it often starts to deteriorate in 15 years or so. This can impact your HVAC system, so it's important to replace your air ducts before you sell if they're starting to age.
Insulation
Ineffective insulation is a relatively cheap and easy upgrade that provides a solid return on your investment (usually around or over 100% of the cost). Proper insulation allows your home to maintain ideal temperatures without needing to rely on your heater or AC.
Doors
Many people forget or don't realize how important doors are when it comes to regulating a home's temperature. Energy-efficient doors and new weather stripping can greatly help your home's internal temperature without needing to draw on the heater or air conditioner as often. Plus, nice doors can add to your home's curb appeal and make a good first impression on prospective buyers.
Windows
Insulated windows aren't as cheap as insulation or door replacements, but they're relatively quick to install when working with professionals. New insulation won't be as effective if you're still allowing your home's heat to escape through old inefficient windows.
Smart Thermostats
Smart thermostats that you can control from your smartphone are gaining popularity among homeowners—and for good reason. Not only are they affordable and convenient, but they can help save a lot of money on energy costs. Because they're relatively cheap and easy to install, it's worth investing in one for your home; more and more home appraisers are factoring in smart devices when deciding a home's value, and modern amenities can boost your home's overall value by 3-5% or more.
Conclusion
As you can see, investing in upgrades for your home's HVAC system can really pay off when it comes time to sell. If you're still a few years away from selling your home you can start making improvements now and enjoy the benefits until you move out.
However, if you know you need to sell quickly, it can still be worth investing in upgrades to help you sell your home for more, faster—and help avoid losing potential buyers who would otherwise be interested if not for an old or inefficient HVAC system.
To figure out which upgrades and options are best for you, contact the experts at AirOne Heating and Air Conditioning to discuss your current situation, get a quote, and ask any questions you may have!